ABOUT US
Southern Title and Escrow, LLC is a locally owned and operated, full-service, residential and commercial real estate title company. As a locally owned and operated business, we have a vested interest in the growth, success and sustainability of Southwest Louisiana, and we will be here to answer your questions before, during and after your closing. We proudly serve the Lake Charles and Southwest Louisiana communities offering efficient, high quality real estate title and escrow services with fast turnaround times, competitive pricing, and personal service with a bit of southern charm.
Meet Our Experienced Team
Choosing a title company is YOUR CHOICE and one that should be made carefully.  As a full service real estate title and escrow company, Southern Title and Escrow, LLC, and its affiliated law Firm, LaComb Law Firm, LLC, are able to handle every aspect of your real estate transaction in-house, which helps to promote efficiency, avoid delays, and get our customers to the closing table as quickly as possible.  We routinely handle all types of real estate related transactions, including but not limited to Cash Sales, Financed Transactions, New Construction, Lot/Land Purchases, Re-finance Transactions, and HELOC's.
Have Questions?
We're here to help. Give us a call or drop us a line!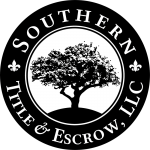 748 Bayou Pines East, Suite D
Lake Charles, LA 70601
337-419-1972 phone
337-419-1975 fax